HOW TO USE APPEALING TIMELESS SYMBOLS IN ART
Timeless Symbols and Types in art revealed and explained (25 Lessons)
'I was an artist that lacked one of the most important tools an artist needs: the ability to convey my message to the viewer in a clear way. Until I found the course Symbols and Types in the art Explained. It shows countless examples of symbols and themes in the art and explains how to use them. The references and free links to resources are amazing! This course provides the necessary knowledge on how to approach using symbols.'
Student of Dutch Art Academy
How to use Appealing and Timeless Symbols in art?
Are you dealing with the same problem? How to convey a clear message to your viewer? In this course, we are going to take a look at the most important symbols and types that were used in Western Art. We will see how symbols and types are organized in categories. We will discuss these categories and their impact on people. We will discuss the meaning of these symbols and types and how closely they are woven into Western society. We will be looking at how Old Masters used them to get their message accross. We will be studying the work of Rafael, De Vos, Holtzius, De Lairesse, David, Delaroche, and many many more.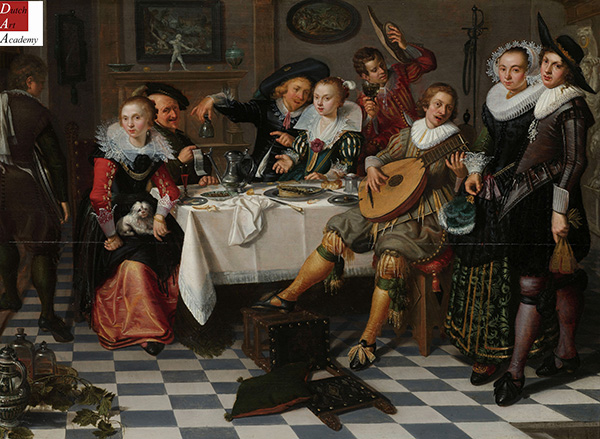 Is this just a party scene or is there more? The characters around the table could represent the five senses. The woman with the lapdog would then be the Smell, the man with the sheet of paper the See, the singing couple the Feel, the man with the cup of wine the Taste and the lute player the Hear. On the wall behind them hangs a painting with the Flood. That is a warning: there is more important matters in life than just party. Partying Company by Isaac Elias, 1629
After you have taken this course
You will have gained great insight in how symbols and types were used to convey a message. You will be able to recognize them when you visit a museum and better understand the painting. The many examples that are shown and explained will be a great source of inspiration for your own works and we have a few exercises that help you integrate them in your art. No need to figure out symbols by yourself. I will show you where to find tenthousands of existing symbols for FREE and you will soon find out how to add you own.
You will have great a great opportunity to raise the quality of your drawing- and painting work here.
For whom is this course?
This course is for you if:
you are looking for knowledge on Symbols and Types
you are an artist who wants to convey a message in their art and looking for a way how to do this
you want to gain more tools to express your message
you are like visiting museums and would like to know more about symbols in art
you are looking for how to add depth to the artwork
you want to develop your personal message, your personal voice, your personal expression
You will be an artist who is sure how to add that second layer to your artwork and bring your message to the viewer in a clear way. Your professionality will have grown to the next level after taking this course!

So don't wait any longer, enroll in this course!
Course Curriculum
WELCOME
Available in days
days after you enroll
PERSONS AS A SYMBOL
Available in days
days after you enroll
SYMBOLS AND SYMBOLIC REPRESENTATIONS
Available in days
days after you enroll
Frequently Asked Questions
When does the course start and finish?
The course starts as soon as you enroll. It is a completely self-paced online course - you decide when you start and when you finish. When you have a busy week and have no time to do the class, just pick up your class the following week. You will never miss any classes and work at your own pace.
How long do I have access to the course?
After enrolling, you have access to this course, for as long as you like - across any, and all devices you own. We suggest using a laptop or full-screen computer, for a great view of the pictures.
What if I am unhappy with the course?
We would never want you to be unhappy! If you are unsatisfied with your purchase, contact us in the first 30 days and we will give you a full refund.
How much time must I dedicate to this course?
That is up to you! You can easily do 2 lessons in 2 hours once a week, so in about three months you will have covered the full course.
What materials do I need?
There are four exercises that would need no more than paper and pencil, but if you prefer to paint, that is ok with me!
Can I preview the course? I want to know what I buy!
Yes, you can! Just scroll to the Curriculum section of this page. There are several lessons available for a free preview. Have fun!
What do you get
115 works of art with their symbols and types shown and explained in detail

26 lectures about the backgrounds of different Symbols and Types and their categories

7 lectures focussing on Christian Symbols and Types

4 Downloadable handouts with meanings of symbols and types

4 exercises to help you work with symbols

Resources lesson with 15 different FREE online resources, for further insight.

Literature list of interesting reading or reference

books
One-time payment
So don't wait any longer, enroll in this course
Your Instructor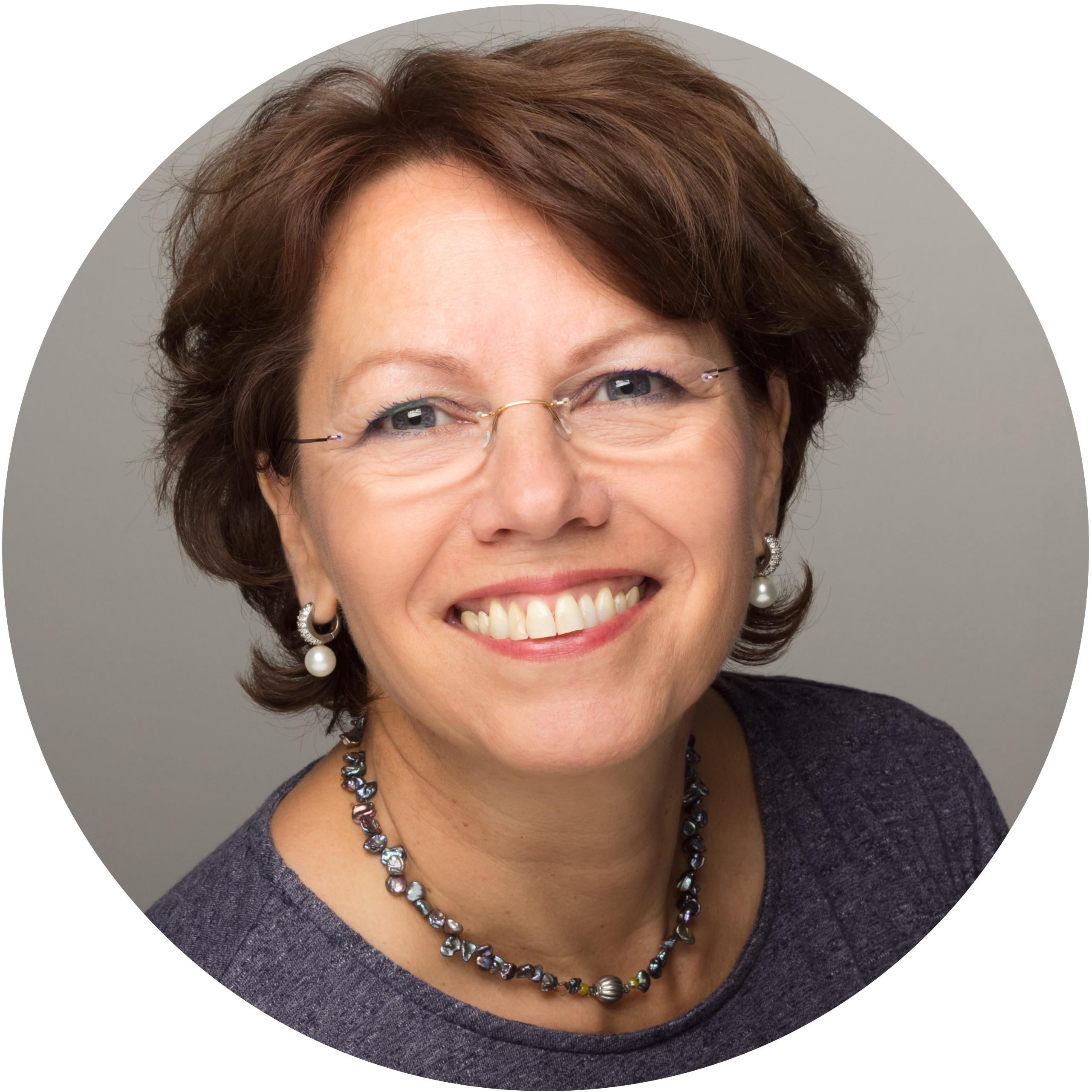 At age 4 Marion held grandpa's watercolor pencils for the first time. They came in a metal tin, with all the colors of the rainbow. This was the first time Marion was really attracted to color and drawing. The pastel portraits made by her grandfather awakened her artist's heart. This first experience with 'art' at a young age never let go of her. After learning a 'solid profession' as a secretary, she started a long-lasting learning curve that brought her artwork further.
Inspiration
She started her artist aspirations with watercolour painting and then switched to acrylic and mixed media. In her early years she mainly worked in a modernist style.
'I have made many inspired works based on my personal faith experiences. From 2013 there was a greater need for realistic works. I started to focus more on realism and the technique that is needed for this.
I developed a love for drawing and started to paint in oil as well, in the tradition of the Old Masters: I made master copies or preliminary studies of them in order to investigate and master the techniques. From this foundation of realism, being able to grasp form, tonality, and expressiveness, my mission is to revitalize the Dutch tradition of drawing and painting. It would be so beautiful if this Dutch legacy were to be preserved for future generations.'
Marion is the founder of Dutch Art Academy online school to facilitate realistic art education.
Education
Marion studied at the Gooische Academie in Laren, NL for 5 years and took lessons in watercolor, acrylic, and oil. She did several portrait and model courses, among others with Humphrey Bennett, Svetlana Tartakovska, and Anatomy/écorché with Per Olof Penrick (former Florence Academy of Art anatomy teacher). And portrait, landscape, and still life at the Russian art academy in Florence. In addition, she is constantly engaged in self-study.
Marion has been teaching drawing and painting in the Netherlands, Switzerland, and Germany since 2006.