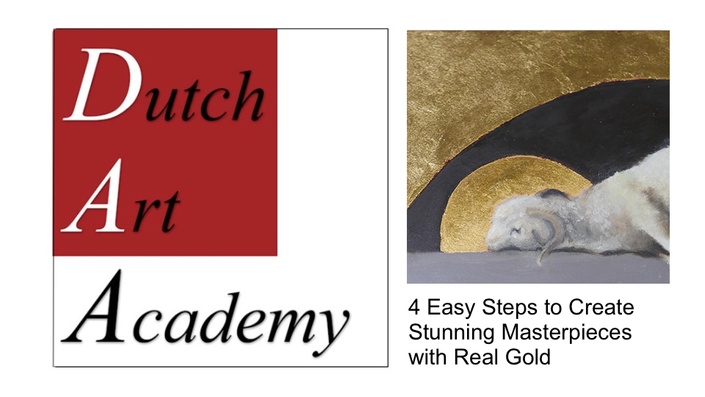 4 EASY STEPS TO CREATE STUNNING MASTERPIECES WITH REAL GOLD
The Secrets of Gold in the Art for you to unfold! (12 lessons)
Watch Promo
There are situations where you know your artwork needs some GOLD. Each artist wants a sophisticated, stylish finish of a high standard. Many artist try different gold paints that all promise the luster and shine of gold and every time the results turns out to be disappointing.
It never looks like real gold and instead has a cheap and fake appearance. Not the sophisticated, high standard finish you were looking for. We all are looking for the real thing and this course shows you how.
4 Easy steps to create Stunning Masterpieces with Real Gold!
This course shows you the Secrets of Gold in the Art:
How to apply Real Gold on your artwork
How to make lines in Gold and how to do random Gold patches
How to make structured backgrounds with Gold
How to make 3 modern artpieces with Gold with rising difficulty
How to make a high level classic painting with Gold
How to make a simple wooden painting frame into a sophisticated Goldguilded one
How to give your Gold an antique finish
12 lessons with video, written content, pictures, handouts
Study safely from the comfort of your own home, no 'corona risks'
There is more...
'Good Art is Built on a Good Foundation'

Are you still happy with so-called 'gold paints'?
They don't give you the results you wanted. Have you reached your goal: Creating the most beautiful result similar to Real Gold?
You may have thought about working with Real Gold, but have the impression that Real Gold is too precious. As we are working with gold leafs that is relatively cheap. We need no special tools and work with the regular materials an artist has available. Remember, a good canvas or a good painting brush can be costly and the price is relative to the size.
The same goes for real Gold.
Gold is not very difficult to work with. This will be shown throughout the course. Anyone can do this. We just need some knowledge and experience and confidence to go for the real thing. Three things that are very easy to solve. No need to keep working with disappointing fake gold paints!
What will you get out of this great course:
You will be shown the secrets and how to work with Gold
You will walk through easy steps shown through video's and printable handout
You will walk through the process of making a highlevel classic painting
You will have the satisfaction and pleasure of finally reaching this sophisticated, beautiful and rich finish you were looking for.
You will have all the confidence you need for working with a precious metal like Gold.
Once you take this course you are ready for a major upgrade of your artwork
Keep doing the same and get what you already have
To keep using fake gold will not give a Top Result. How will you get rid of the taste of 'hobby' clinging to you and your art work. Using gold paint or spray cans will not give you the satisfaction of working like a true professional. You know there is more to make a top quality work. That is to reach for Real Gold! Once you take this course you will taste this great feeling of accomplishment, a booster for your confidence and your artwork. But there is more...
Give your customers something other artists cannot give them:
A good story
Once you have taken this course you will be an artist that has a great story to tell your future customers. They will love you for using real Gold. They will love your the stories about how you made the artpiece, the deeper meaning how to apply Real Gold. You will have a great sales talk when you tell your customers about the skills and historic backgrounds of Gold. But now comes the good part:

A one-of-a-kind artpiece wit Real Gold
Your customers are looking for art that stands out from the crowd. You will be the artist that will give them what they are looking for: an outstanding art piece of high quality!
Give yourself what you want:
A better price for your artwork
The use of real Gold, instead of fake, is a good argument to ask and get a better price for your artwork! Your customers will feel very attracted to an artpiece with Real Gold!
A professional image as an artist
The use of real gold will lift you out of the 'hobby' realm. It will let you enter into the skilled professional artist level. Boost your confidence and your artist practice!
Course Curriculum
SMALL PAINTINGS
Available in days
days after you enroll
A GOLDEN CORONA PAINTING
Available in days
days after you enroll
Frequently Asked Questions
When does the course start and finish?
When taken one class per week this course will take you about 7 weeks to work through all the assignments. The course will take you 2 to 3 hours per class.
How long do I have access to the course?
How does lifetime access sound? After enrolling, you have unlimited access to this course for as long as you like - across any and all devices you own.
What if I am unhappy with the course?
We would never want you to be unhappy! If you are unsatisfied with your purchase, contact us in the first 30 days and we will give you a full refund.
What materials do I use and where can I buy them?
Please look at the material page, there is a downloadable materials list. You must be able to buy the materials at a good art materials shop or in an online shop.
Is there any help from a teacher with my course?
There is always an opportunity for Weekly Coaching. Please refer to the homepage and read all about it at Weekly Coaching.
Is this a one-time sale or a subscription?
This is a one-time payment.
Your Instructor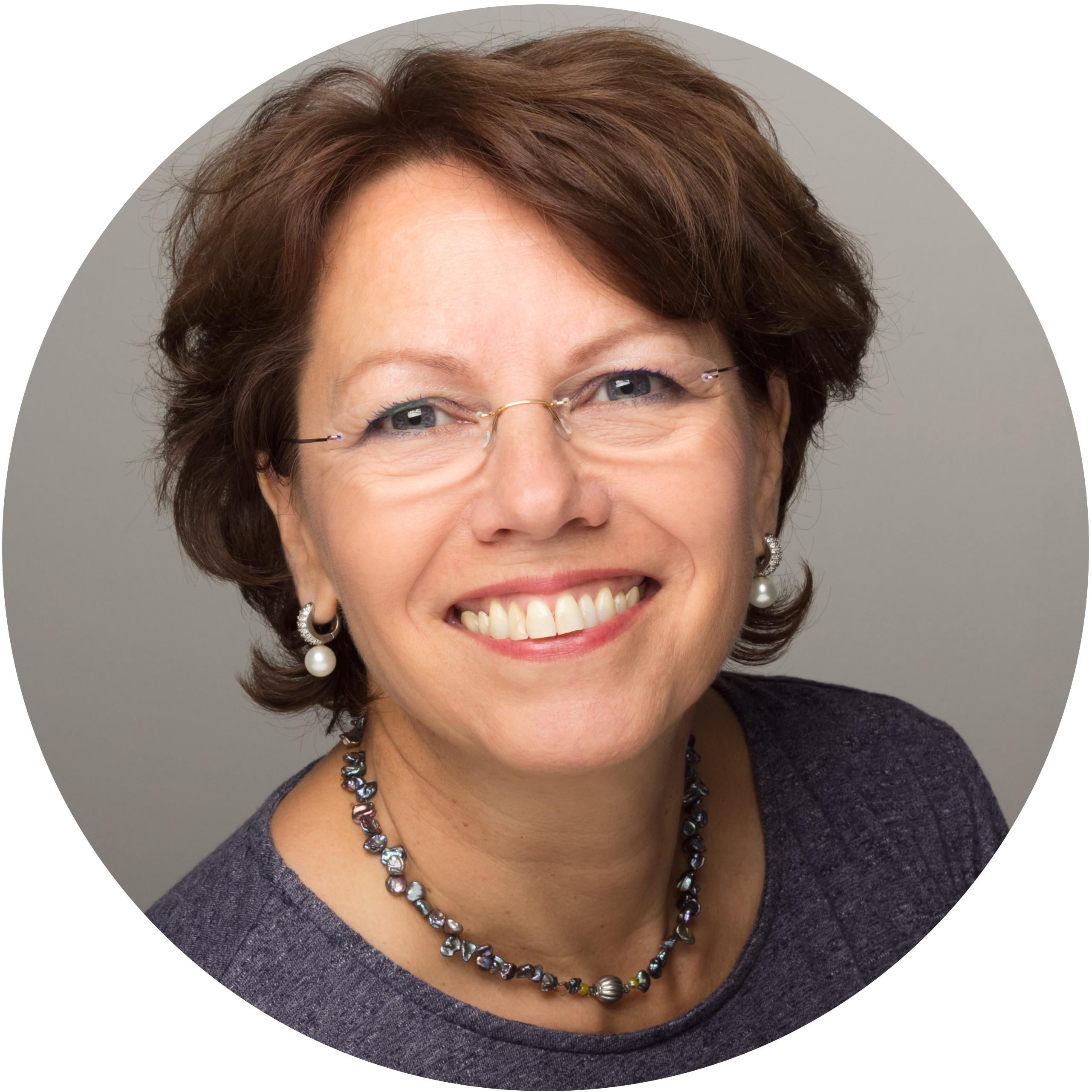 At age 4 Marion held grandpa's watercolor pencils for the first time. They came in a metal tin, with all the colors of the rainbow. This was the first time Marion was really attracted to color and drawing. The pastel portraits made by her grandfather awakened her artist's heart. This first experience with 'art' at a young age never let go of her. After learning a 'solid profession' as a secretary, she started a long-lasting learning curve that brought her artwork further.
Inspiration
She started her artist aspirations with watercolour painting and then switched to acrylic and mixed media. In her early years she mainly worked in a modernist style.
'I have made many inspired works based on my personal faith experiences. From 2013 there was a greater need for realistic works. I started to focus more on realism and the technique that is needed for this.
I developed a love for drawing and started to paint in oil as well, in the tradition of the Old Masters: I made master copies or preliminary studies of them in order to investigate and master the techniques. From this foundation of realism, being able to grasp form, tonality, and expressiveness, my mission is to revitalize the Dutch tradition of drawing and painting. It would be so beautiful if this Dutch legacy were to be preserved for future generations.'
Marion is the founder of Dutch Art Academy online school to facilitate realistic art education.
Education
Marion studied at the Gooische Academie in Laren, NL for 5 years and took lessons in watercolor, acrylic, and oil. She did several portrait and model courses, among others with Humphrey Bennett, Svetlana Tartakovska, and Anatomy/écorché with Per Olof Penrick (former Florence Academy of Art anatomy teacher). And portrait, landscape, and still life at the Russian art academy in Florence. In addition, she is constantly engaged in self-study.
Marion has been teaching drawing and painting in the Netherlands, Switzerland, and Germany since 2006.