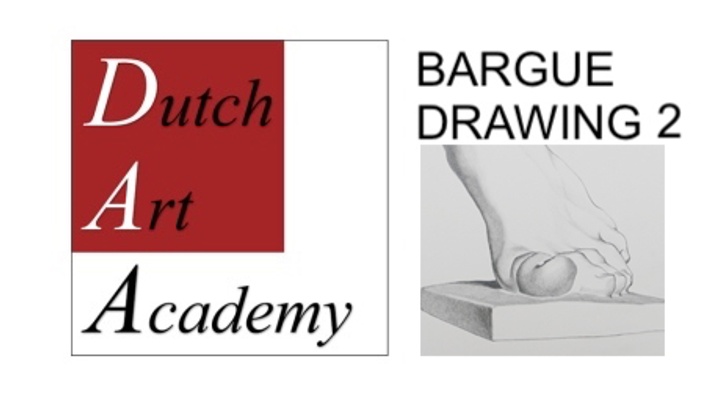 DRAWING 2 - Quick steps to make realistic drawings
Bargue drawings that lift you up to Academic Drawing Level! (16 Lessons)
Watch Promo
Are you a lover of realistic art?
Are you trying the very best to make your drawing or painting look as realistic as possible? Is it a lucky strike to reach resemblance in your art work? Are you struggling with chaos in your work? Or do you sometimes 'get lost' in your artwork? When this sounds familiar...
Drawing 2 - The Quickest Steps to make Realistic Drawings
has all the answers you are looking for
Maybe you are an artist that is looking for a striking resemblance between your model and your drawing. You tried different teachers and courses. Each time your results convinced you there must be some better way towards better drawing. Did you ever reach the realistic level you actually long for? Maybe this course is what you need.
What does this course offer to you?
Once you take this course, you will….
have a clear procedure to approach each artwork
know how to work in a structured manner towards a realistic result

know how to manage a great number of shades and how to apply them in your drawing
know the meaning of 'unity' in your work and have learned how to reach it.

have trained your eyes and hands to achieve fine-art academic results.
you will be capable of creating great realistic drawings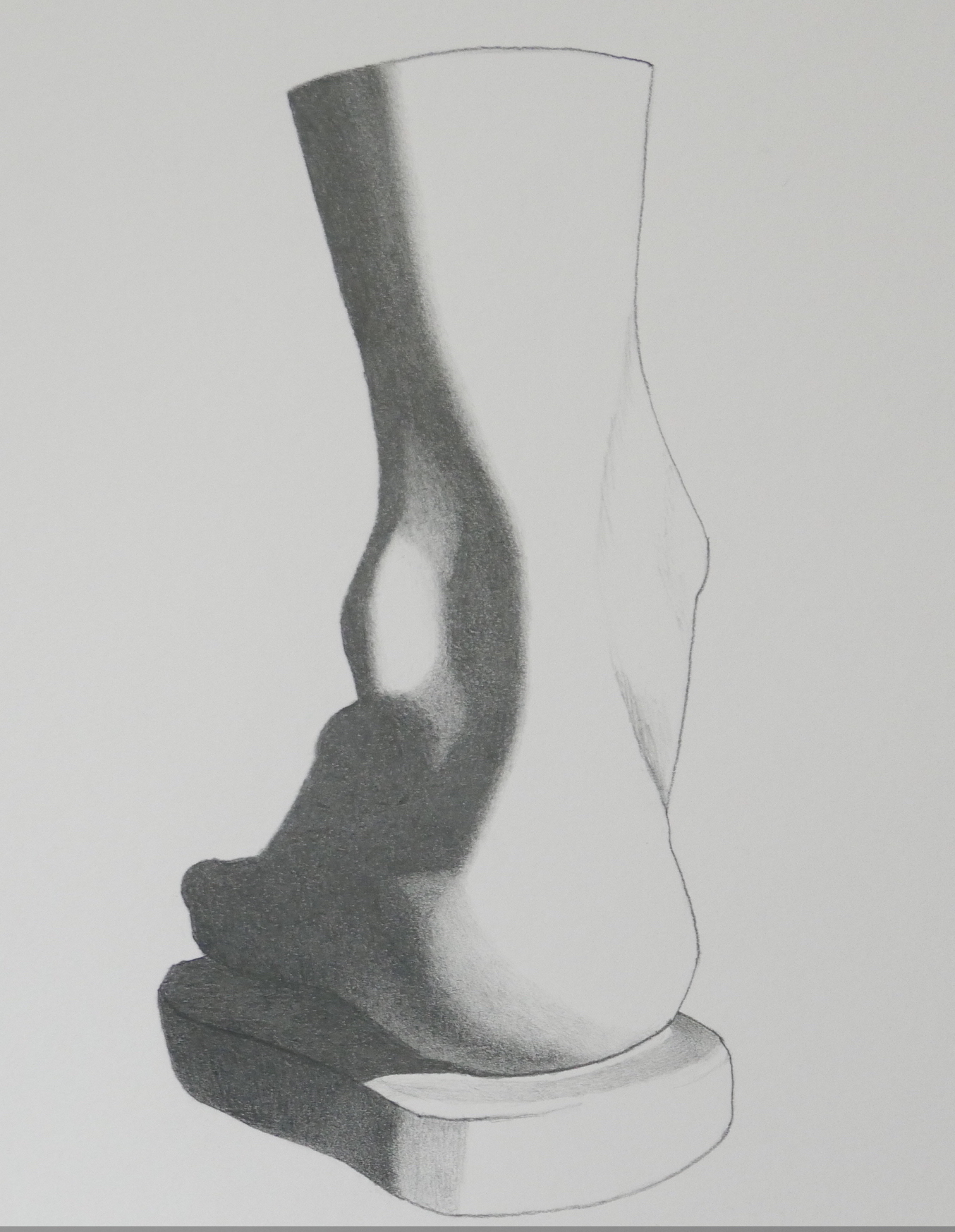 End the chaos
I don't know about you, but what happened to me is I felt a bit 'lost in' my drawing and painting. They never reached the level I was looking for. When I finally found my way out of the chaotic process of making a drawing I still only got a drawing that was not satisfactory. It looked dirty, my paper was often damaged because of the erasing and correcting errors. And I felt a bit down that despite all of my efforts the results were mediocre at their best.
Bargue Drawing Method
Until I learned how to work according to the Bargue drawing method. Bargue Drawing is based on French 19th century Classic Academic drawing training. It built up my abilities to draw realistic drawings. This course is set up to build form and realism in a relatively short time. My confidence was boosting! After taking this course you also will feel so confident!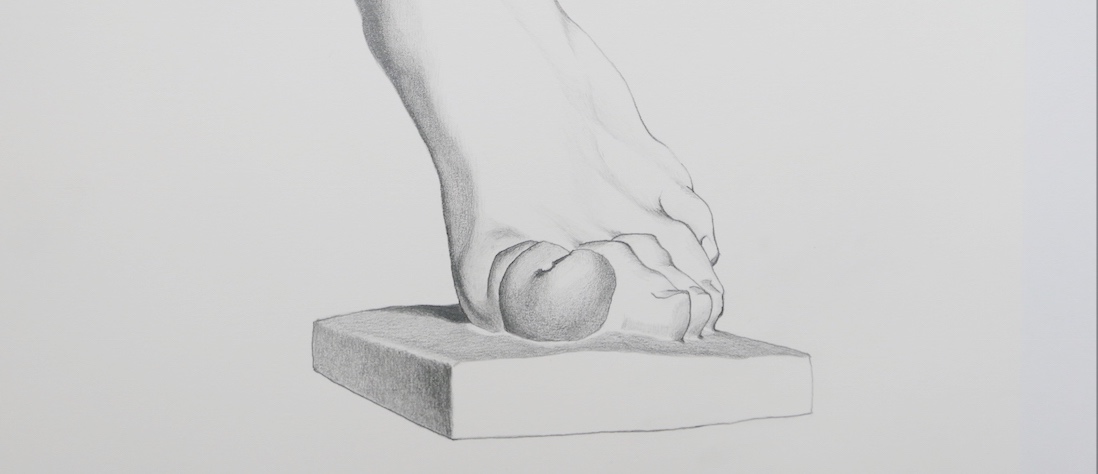 Detail of the Gladiator Foot

Finally the result you are looking for
You will feel so satisfied, seeing people love the great result of your elegant drawings. You will taste this great feeling of accomplishment. And you will have the satisfaction of finally being able to work with clear steps towards a beautiful amazing end result. This also reflects on your paintings!
Can your art still grow to a higher level?
Before taking a Bargue course I did not feel like a true professional. I always still felt my artwork wasn't good enough. But that ended once I learned the things I now offer in this course.
The quickest path towards High-level Realistic Art Work
You will be an artist that has a solid knowledge of how to reach a high-level realistic drawing. You will have an almost guaranteed potential to make the most realistic drawings you ever saw. One after the other, it is not just a lucky strike! (I dare say this because I walked this path myself.)
Good art attracts customers
Your artwork will attract customers who adore an art piece with a real resemblance to the model. You will be the artist that gives them what they are really looking for.
Your work will be professional. Fellow artists will be silent when they see your work. (This is really true!) Why? Because you will have a skill most artists can only dream of!
This course is for you!
'Good Art is Built on a Good Foundation'

Your Instructor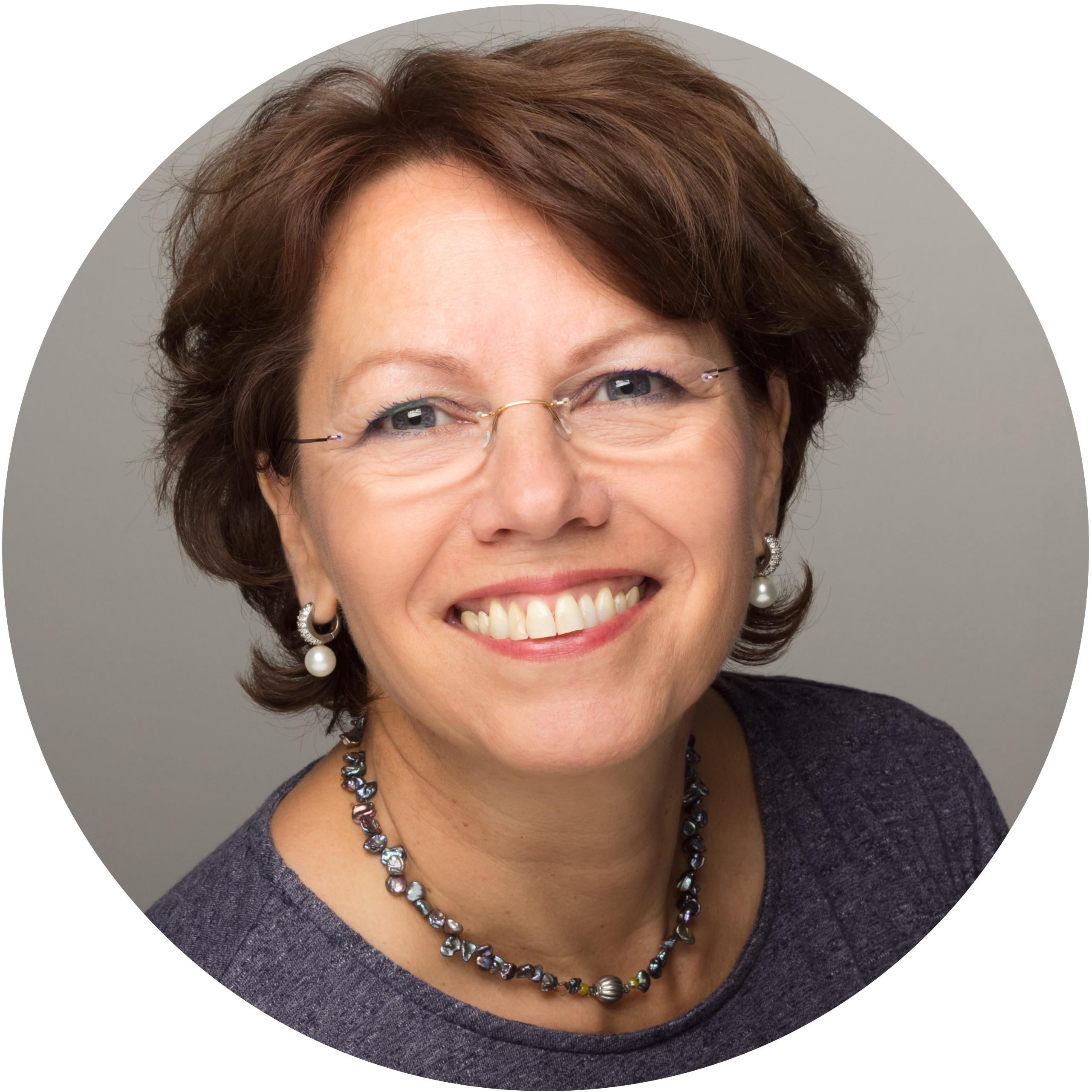 At age 4 Marion held grandpa's watercolor pencils for the first time. They came in a metal tin, with all the colors of the rainbow. This was the first time Marion was really attracted to color and drawing. The pastel portraits made by her grandfather awakened her artist's heart. This first experience with 'art' at a young age never let go of her. After learning a 'solid profession' as a secretary, she started a long-lasting learning curve that brought her artwork further.
Inspiration
She started her artist aspirations with watercolour painting and then switched to acrylic and mixed media. In her early years she mainly worked in a modernist style.
'I have made many inspired works based on my personal faith experiences. From 2013 there was a greater need for realistic works. I started to focus more on realism and the technique that is needed for this.
I developed a love for drawing and started to paint in oil as well, in the tradition of the Old Masters: I made master copies or preliminary studies of them in order to investigate and master the techniques. From this foundation of realism, being able to grasp form, tonality, and expressiveness, my mission is to revitalize the Dutch tradition of drawing and painting. It would be so beautiful if this Dutch legacy were to be preserved for future generations.'
Marion is the founder of Dutch Art Academy online school to facilitate realistic art education.
Education
Marion studied at the Gooische Academie in Laren, NL for 5 years and took lessons in watercolor, acrylic, and oil. She did several portrait and model courses, among others with Humphrey Bennett, Svetlana Tartakovska, and Anatomy/écorché with Per Olof Penrick (former Florence Academy of Art anatomy teacher). And portrait, landscape, and still life at the Russian art academy in Florence. In addition, she is constantly engaged in self-study.
Marion has been teaching drawing and painting in the Netherlands, Switzerland, and Germany since 2006.
Course Curriculum
Introduction to Bargue Drawing Course 2
Available in days
days after you enroll
1. Preparation
Available in days
days after you enroll
2. Shading
Available in days
days after you enroll

Example plate with set-up and final result.
Isn't this a fabulous course? This is what you get:
Example plates of the Heel and the Foot of the Gladiator
Clear instruction video's
Practical directions
Excellent exercises
Corona-free learning!
But most important: to learn a consistent procedure on how to draw built on timeless principles!
Next to doing great drawings you will also gain a lot of understanding about the anatomy of the foot. Don't wait any longer and enrol today. Estimated length of the course is 3 months (on 1 lesson per week). Time dedication: 3 hours per week to view the cours lecture and do the exercises.
Time Dedication to the Course
This course has 12 lessons. With a dedication of 2 to 3 hours per week it can be finished in 3 months. A beautiful short course. You can determine your own pace.
You can grow very fast! This is depending on:
the time you are willing to give to this course,

the skillset you already have*, and

your commitment to doing your exercises
You can start right now and stop any time you like!
*It is recommended to first do Drawing 1. Drawing 2 builds on skills learned in Drawing 1, although experienced people can skip Drawing 1.
You can grow even faster with Weekly Coaching**
Weekly coaching covers one on one feedback on your assignments.
**Weekly Coaching is a separate product and is not included in Drawing 2 - The Quickest Steps to reach Realistic Drawings.
Frequently Asked Questions
How long will this course take?
When taken one class per week this course will take you about 4 months to work through all the exercises. The course materials and exercise will take you 2 to 3 hours per class.
What if I am unhappy with the course?
We would never want you to be unhappy! If you are unsatisfied with your purchase, contact us in the first 29 days and we will give you a full refund. However when our records show you have consumed more than 4 lessons during that time, unfortunately we cannot refund anymore.
When does the course start and finish?
The course starts whenever you enrol! It is a completely self-paced online course - you decide when you start and when you finish. You finish when the full course is done. It is up to you how fast you learn.
What materials do I use for this course?
Graphite pencils Koh-i-noor, Faber Castell or Staedler brand: 2H, HB, 2B, 4B, 6B (at east 2 pieces of each, please buy one brand) 1 T-ruler of at least 40 cms length (please buy this, it is essential to create straight angles). 1 hobby knife in a small size (the break of type of knife) 1 piece of sanding paper 200 grain 1 large wooden BBQ- pin or a thin knitting needle without cap 1 block transparant paper A4 size 1 A3-size sketchbook fine drawing paper smooth, minimum 120 grams 1 role painters tape suitable for wallpaper (Tesa Pink is wonderful) 1 pen eraser TOMBOW Mono Zero which has an ultra fine eraser tip 2.3 mm (or similar) 1 geo triangel ruler or another triangular ruler 1 kneaded eraser 1 easel 1 wooden drawing board of 70 x 90 cms
How long do I have access to the course?
After enrolling, you have unlimited access to this course as long as your subscription runs - across any and all devices you own. Just login with your emailaddress and password used during subscribing.
Is there any help from a teacher with my homework?
There is always an opportunity to for Weekly Coaching. Please refer to the homepage and read all about it at Weekly Coaching.