You would like to expand your art career to a professional level....
As an artist you want to develop professionally, but your art is rarely or not at all sold. You are a multi-talent, which of your art forms will you choose to develop as an artist? Your art looks fantastic!
....but are you the only one who shares this opinion?
TIME FOR A REALITY CHECK!
Sometimes you have questions or don't know how to make the most of your art. Before investing in reproductions or in the development of your artistic practice, you can have your art professionally evaluated. In an art evaluation session you look in the mirror, we discuss three of your artworks which results in an advise.
You may be wondering if and how your art could be improved. I will help you to reach your full potential! How?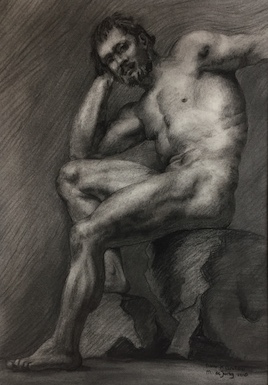 After Karl Brullow
Marion de Jong,
Charcoal Drawing,
20 x 30 cms
THROUGH AN ART EVALUATION SESSION
Let me look over your shoulder to improve your art! Is your art really of the quality that an art lover would buy? Ask a Pro BEFORE investing in reproductions, websites, marketing, etc..
THIS IS HOW IT WORKS
I will analyze max. 3 photo's of your art.
Through Skype, Facetime, Whatsapp or Messenger we will discuss which changes would improve your art.
In the same session your questions about art, materials and techniques or other art related questions will be covered. (Maximum time: half an hour).
During this conversation you will receive advice that will help you grow as an artist.
Within A FEW days you will receive a date and time for a virtual meeting.
WHAT DOES AN ART EVALUATION SESSION LOOK LIKE?
The whole conversation has only ONE PURPOSE: TO GET YOU TO YOUR FULL POTENTIAL! You will not receive general instructions, but specific, professional, honest instructions on your questions and the quality of your artwork. You can follow these instructions or not, the choice is yours. 
WHOM IS THIS FOR?
Art criticism is aimed at both experienced and young artists who have their art analysed in an optimal way in a conversation in order for you to can make healthy business decisions.
YOUR ADVANTAGES
Let me just summarize the great advantages of art criticism:
YOUR GROWTH as an artist is the core of art criticism!
YOU RECEIVE PERSONAL CONSTRUCTIVE, HONEST FEEDBACK
YOUR QUESTIONS, YOUR doubts, YOUR STRUGGLES can be discussed (your choice)
This SESSION helps you to make healthy business investments and secures your image as a successful artist.
YOU ARE FREE to follow the advise or not.
An ART APPRECIATION SESSION is based on pictures of your artwork. One session covers max. 3 photos. YOU WANT MORE FEEDBACK? There is always the possibility to get additional feedback.
MAXIMUM TIME OF CONFERENCE is half an hour.
CHOICE FROM THE FOLLOWING DATES
You can choose one of the following dates:
Wednesday 13 November 2019, morning or afternoon
Wednesday December 4, 2019, morning or afternoon
Wednesday December 11, 2019, morning or afternoon
PRACTICAL
When you order an ART APPRECIATION SESSION, you will receive a short questionnaire and a proposal for a date and time through Email. (Please check your Spambox in case you don't see it). You will send me your photos and questions/answers in advance.
At the agreed time we will meet through Facetime, Whatsapp, Messenger or through Skype for a half hour interview. You will be advised on how to further develop your goals.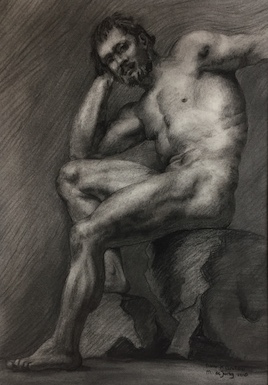 Use this for a heading.
Use this area for description text.